More than 24 hours after the heavy rain, layer and hail was on the protective screens. Some platforms even broke with the weight of the ice stones in the town of Invernadinha, in São Joaquim.
Farmers in the town of Invernadinha, in São Joaquim, in the Serra de Santa Catarina region, found on the screens of the protection of apple orchards a large amount of ice stones more than 24 hours after the heavy hailstorm that hit the city on Sunday (14). On that occasion, a rainfall of 3 to 5 minutes on Sunday (14) was enough time to compromise the work of producers who expected a higher quality crop than the previous ones.
The nets did not support the weight of the ice stones, which came to form blocks. The platforms that support the structure even broke. Apples affected by hail had damage on the outside and inside.
The survey of the total damage is still being done by the Association of Apple and Pear Producers in the Region.
The forecast is to harvest 400 thousand tons of apple this harvest. But, depending on the damage caused by hail, the fruit may lose its market value.
"The production will not be affected because this apple will be sold in the same way, the only thing is that it suffered a depreciation. So, it fell from the category, this should reflect on the price ", says the association's president, Dioni Nunes Pereira.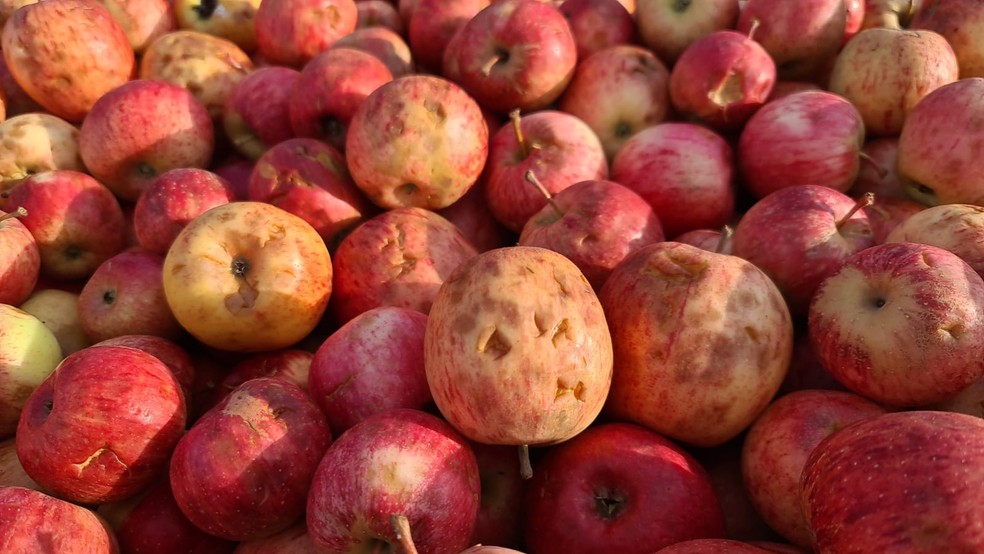 Fruits hit by hail – Photo: Mycchel Legnaghi / São Joaquim Online
The apple harvest this year was anticipated in some locations, according to the Agricultural Research and Rural Extension Company of Santa Catarina (Epagri), because of last year's cold that helped anticipate ripening.
At the moment, the harvest takes place in the gala apple. In March, I started to flee, which should continue until May.